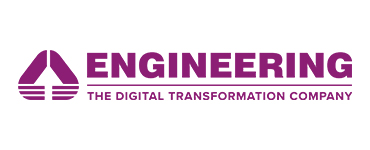 Engineering is the Digital Transformation Company, leader in Italy and expanding its global footprint, with around 12,000 associates, with over 60 offices spread across Europe, the United States, and South America and global delivery.The Engineering Group, consisting of over 20 companies in 12 countries, has been supporting the continuous evolution of companies and organizations for more than 40 years, thanks to a deep understanding of business processes in all market segments, fully leveraging the opportunities offered by advanced digital technologies and proprietary solutions.
The Group operates in the outsourcing and cloud computing market via an integrated network of 4 data centers located in Pont-Saint-Martin (AO), Turin, Vicenza and Milan, equipped with infrastructure aligned to the best technological, quality and security standards. An exclusive asset in Italy is the company's IT & Management School "Enrico Della Valle", that with 200 certified lecturers and 363 courses available provides 20,000 technical, method and process training days per year.
Through the Research and Innovation department, ENG invests 40 M€/year in research, with 250 researchers, and 70 on-going national and international research projects across 4 development laboratories. ENG is core partner of EIT Digital (Trento node of the European Institute of Innovation and Technology), co-founder of the Big Data Value cPPP, co-founder of the European initiative Future Internet PPP, partner of the Alliance for the Internet of Things (AIOTI PPP), board member of the European Organisation for Security EOS, partnership board member of the European Cyber Security Organisation (ECSO), and co-founder of the initiative NESSI (Networked European Software and Service Initiative). ENG is a founding member of the FIWARE Foundation.
Role in the project:
ENG as Large ICT enterprise with a strong R&I department and strategy will coordinate the project, and therefore WP1 (Project Management) as well as leading WP5 (Services Integration and Deployment). ENG provides AgriBIT with the project and ICT management role to guide the overall implementation of the different components, providing prior expertise in project management, reference architecture definition, data management and processing (also from the security and privacy aspects), in knowledge sharing and co-creation and in collaborative environments, further ENG will contribute in platform infrastructure development and APIs for Big Data Analytic service. For this reason it is also involved in other WPs, in particular dealing with Design and Impact generation activities (namely Exploitation and Business Case definition in WP6). As described below, ENG also brings commercial-grade ICT infrastructure which will be made available, also in terms of expertise, to AgriBIT.